With the rate our favorite social media platforms change and update, there's no telling how many helpful features are out there that we just haven't been taking advantage of — until now. The helpful bloggers at Hubspot have revealed some of the biggest features on Facebook that most people don't even realize exist but can help us manage our feeds and reach students easier than ever before. We've included the top few for Facebook here, but if you want to see the rest (and some hidden features for Twitter, LinkedIn and Pinterest as well), head on over to Hubspot's blog!
1) Save links for later.
Ever seen articles in your News Feed you wished you could bookmark for later? Well, you can. Facebook recently added a feature that allows users to save links to articles, events, TV shows, music, and more to read later. All you have to do is click that little downward arrow on the top right-hand corner of the article in your Feed, then choose the "Save" option.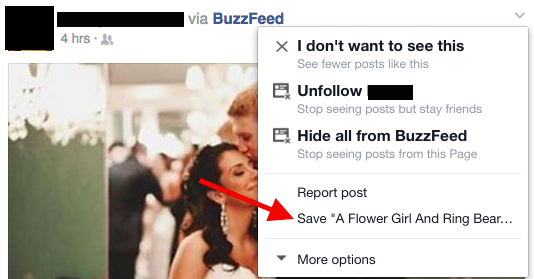 To view the things you've saved, go to your home page and choose "Saved" in the left-hand column. (Or go straight to https://www.facebook.com/saved/.)
...
3) Find targeted conversations.
The search bar at the top of your Facebook Page isn't just for searching for names. (Or Pages, groups, events, and apps.) Now, you can type in a few keywords to search for old News Feed posts, both on desktop and mobile. (Learn more about the Facebook Graph Search update here.)
4) Poll people in a group or event.
Although Facebook removed the polling feature from business Pages' status updates, you can still poll users in groups and events. Choose the "Ask a Question" tab inside the status update bar. Click "Add Poll Options" to enter multiple-choice options. Use this to ask your audience for feedback about event location or execution, content you've posted, and so on.
6) Reorder the sections on your business Page.
Want the "Photos" section to be above "About" on your business Page? No problem -- just hover your mouse over the section head of any one of your sections until a small pencil appears. Click the pencil and choose "Manage Sections."
From there, you can drag to reorder.