53 percent of adults ages 18-29 say they use Instagram everyday. That means their is an excellent opportunity for colleges and universities to use the world's most popular photo app to market to their students. Included in the list from Hubspot below are schools that are doing an excellent job of getting the most out of their Instagram accounts - you'll even find a few MBS partners! Check out the excerpt and be sure to read through the entire list here.
When it comes to posting a diversity of Instagram content, Colorado State University covered it all -- and everything came out beautifully. We had a hard time choosing from the multitude of adorable pictures of their mascot CAM the Ram, which included playful captions such as "Our mascot is cuter than your mascot." They also did a great job with campaign graphics, like the ones below on ending hazing and promoting their sweepstakes, the grand prize of which was a trip to Cancun.

Located in scenic Hanover, New Hampshire, Dartmouth's campus has a lot to work with -- and their social media team doesn't sell it short. Their Instagram account is chock full of breathtaking, high-definition pictures of their campus in every season and at every time of day. We love the drone shots they used to show their campus from a new perspective.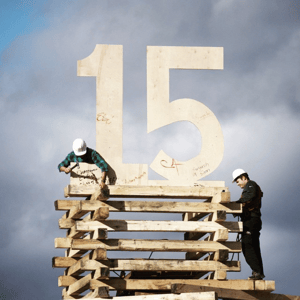 Liberty University's Instagram is a great mix of beautiful campus shots and photos of students, staff, guest speakers, and other members of the Liberty community. When it comes to posting photos of people, they don't rely on generic group pictures of people hanging out around campus. Instead, they post photos of people that appeal to followers who don't know the person or people in the photo, like the one with the championship ring below that can ignite school spirit in any student or alum. Check out how they brand each photo with their logo for anyone who might regram.
University of Cambridge in England has mastered the art of photo editing. Most of their Instagram photos are landscape photos of areas around their campus, but check out how they've edited them to intensify the colors and bring out the details in each photo. We also love how they frame their photos, like the building through the archway and the quad through the window below. You might see certain buildings or areas every day, but when you're taking photos, think about the unique and interesting ways you can photograph them.
Arizona State University lets its school pride shine through its Instagram account, which features a lot of content related to their sports teams. They do a great job of creating cool graphics for game day announcements, and we love that they include all the relevant information both as text in the graphic and in the caption. That way, anyone who wants to regram doesn't have to copy the caption, too.