Today, when nearly every store in the industry has a website of their own, the best way to stand out from your peers is to have a well-designed and easy to use site of your own. In this article from Hubspot, they cover 14 of the notable college websites from across the country. Check out an excerpt below, and give the full article a read to get ideas for your own website. Also, a special shoutout to a couple of MBS customers that made the list: Middlebury College and Brown University!
Middlebury's website is unlike any college website I've seen before. Their homepage, designed by White Whale Web Services and launched in February 2010, features a number of colorful bars that act as a navigation system. Users can hover their mouse over each bar to see where clicking it would lead them -- such as a video snapshot of the community, homecoming highlights, a news story about new funding, and so on. Hover effects like these are great tools to help with a user's experience. The design isn't intrusive, and yet it helps web visitors keep track of where they're looking on a page.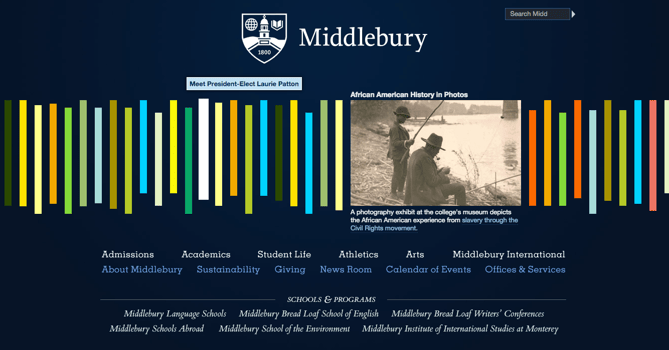 Brown's website has lots of images, but they use a neat trick to make it not seem so overwhelming: Their background photos are all muted while their featured content (in the example below, stories about student research) are large and vivid. This helps reduce the visual clutter on the page and give emphasis the university's prime focus: research. The website took two years to build from 2008 to 2010, with strategy and design by marketing and communications firm mStoner, Inc. in partnership with Brown's in-house Computer Information Services team. Their goal was to showcase the university and improve user experience.