Just about any time your store posts on Facebook, there should be a goal that the post is trying to help you accomplish. But knowing whether you can expect each post to be a success beforehand can be a tricky thing, which is why we researched and found this article from Hubspot that will hopefully help you recognize what steps you need to take in order to get the most out of each Facebook post. We've included an excerpt from Hubspot's article below, but we hope that you'll read through the whole thing in order to get a full understanding of how following these few simples steps can help grow your store.
4) Is Brief, but Uses Compelling Language
Some studies (such as this one by TrackSocial) have shown that posts with fewer characters (ranging from 40 to 70) get the best results.
Use compelling yet concise language, but avoid "click-bait" phrasing. Click bait refers to using vague or misleading language such as "You'll never believe the five things this guy said…" to generate clicks, without fulfilling the promise made by the statement. Facebook is working to penalize this practice, and it's not a good long-term strategy for driving user engagement or lead generation. If people feel misled by your posts, they won't come back for more.
The example above is a good use of a short but compelling text that supports the photo and engages user. A similar example is below, using a photo and short URL.
5) Isn't Always Promotional
Be careful not to let your Facebook Page turn into a stream of advertising. Occasional promotions and offers are expected and effective, but you need to balance getting with giving by offering useful content to your audience and being mindful about building a sense of community.
Your posts should be a near 30-70 mixture of promotional content (with links back to your website) and value-added content, in which you share relevant information that your target audience would find useful or interesting or develop the community.
Occasional humor, as long as it's not offensive and is appropriate for a business audience, is appreciated and can be very effective. You really have to know and understand your audience to make this successful (build your personas!).
The example below from Walmart had a huge response rate, in part because it was timely, humorous and NOT product promotional.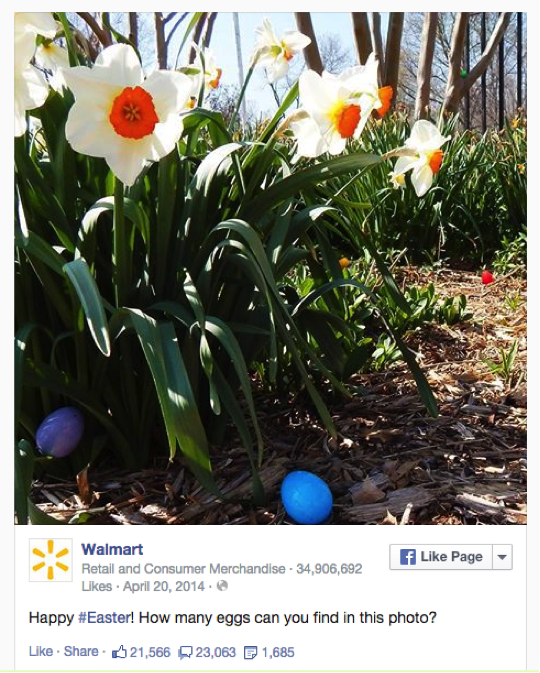 The post below from HubSpot is an example of offering valuable educational content to your audience. This post is not promotional, and not even related to HubSpot's offering, but it has a very high level of sharing among readers (1,000 shares). People appreciate it when you share what you know—without asking anything in return.