On social media, it's just as important to know what actions are going to harm your store as those that will help it. In this article from Hubspot's marketing blog, they cover the 13 things that you should absolutely not do with your Facebook page. Check out an excerpt from the article below, but be sure to give the whole thing a complete read.
7) Don't post images of just any size.
Pixelated, cluttered, or difficult-to-read visuals will not only frustrate users, but they'll also give you a bad reputation.
Facebook doesn't just have specific image dimensions for profile photos and cover photos. (Although those are important, too.) It also has ideal image dimensions for images you post on your Timeline, the ones you use in sponsored posts, sidebar ads, and so on. To help you keep everything straight, check out this handy cheat sheet: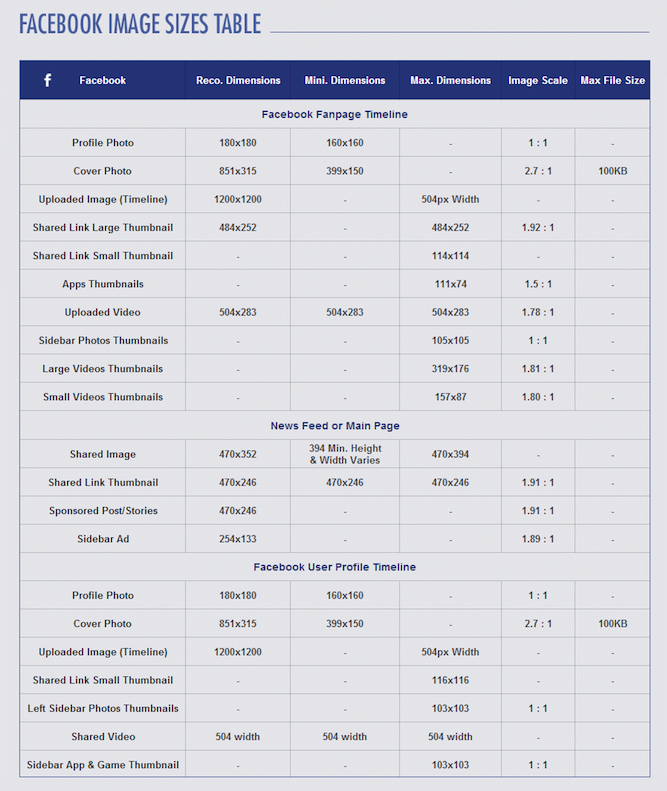 Image Credit: Digital Information World
8) Don't post click-bait.
When you link to a web page in a Facebook post, Facebook now looks at how long people are spending on that page in order to measure its usefulness. The lesson? Don't post click-baity headlines that don't deliver on your promises.
In an effort to determine what type of content users preferred to see in their News Feeds,Facebook conducted a survey and revealed that 80% of the time people preferred headlines that helped them decide if they wanted to read the full article before they had to click through.
So if you're looking to meet the needs of your audience on Facebook, consider posting links to clear, informative blog articles. When the headline sets the right expectation for what a user can expect from the content, it's easier for them to see the value in what you're offering and remain on the page to read the article. When it doesn't, they bounce off the page and Facebook takes note.
9) Don't assume you should only post during business hours.
A TrackMaven study found that posts published after-hours (5 p.m. - 1 a.m. EST) got 11% more interactions than those published during the day (8 a.m. - 5 p.m. EST). These after-hours posts also got 29% more interactions than those published before work (1 a.m. - 8 a.m.).
What about weekends? TrackMaven's study found that posts published on Sundays got 25% more Likes, shares, and comments than Wednesday posts, even though fewer than 18% of posts were published on weekends.
The takeaway here is to publish posts at varying times, including evenings, nights, and weekends. This is especially true for business with international audiences whose fans are awake at all different times of day.
10) Don't post too often (but do post regularly.)
Yes, you should post regularly to keep your audience engaged, show them you're present and listening, and answer their questions and concerns.
However, what you don't want to do is overwhelm them with tons and tons of posts. We recently published a blog post summarizing research we did on how often businesses should post on Facebook. It included posting frequency benchmarks by industry and company size based on Facebook data from our 13,500+ customers.
What we found was this: Companies that are selective about what they publish -- i.e. they take the time to craft a smaller number of high-quality Facebook posts instead of a lot of Facebook posts -- performed best.